Lampe Balad H38cm Verveine
This product is no longer available, you can find a similar product in the category : fil d'ariane.

Specifications

Descriptive

Comments
Lampe Balad H38cm Verveine de chez Fermob
Lampe sans fil
sur batterie rechargeable conçue pour un usage extérieur
Adaptée à un usage professionnel
Poignée en aluminium avec peinture poudre anti-UV / diffuseur en polyéthylène
Très haute protection pour usage extérieur - Normes IP44 (étanchéité) / IK10 (résistance aux chocs) / CE / FCC
Bouton d'allumage souple - Fonction dim'up: montée progressive de la lumière
2 températures de lumière (blanc froid 6000°K et blanc chaud 4000°K) - 2 intensités de lumière blanc chaud (50 & 100%) + 1 intensité de lumière blanc froid 100% + OFF
Autonomie: 9H (min) > 16H (max) - Technologie LED - 2,5W - Flux lumineux: 150 Lm
Lampe rechargeable (temps de charge 4H) - Cordon USB de 2 mètres inclus - Classe: A++
Dimensions: diamètre 28cm x H38cm - poids: +/- 1,2KG
Coloris: verveine (coloris arrêté après rupture de stock)
La Lampe Balad H38cm Verveine de chez Fermob est une lampe nomade incontournable dessinée par le designer Tristan Lohner et développée en collaboration avec Smart And Green. Cette lampe sans fil au coloris acidulé a été conçue dans un objectif de fiabilité en outdoor et de pureté des lignes. Elle répond aux normes IP44 et IK10 pour pouvoir rester en extérieur et vous accompagner au mieux lors de vos soirées en plein air.
Vous pourrez l'emmener partout, à table, au bord de la piscine, à la plage... pour vous procurer une petite touche de lumière d'ambiance.
Sa poignée, dont le design d'inspire d'un casque audio, apporte un côté branché à cette lampe nomade. Cette poignée marque également le savoir-faire de la marque Fermob pour le travail du métal. Balad fonctionne sur batterie qui se recharge grâce à un simple cordon USB (de 2m). Elle offre une autnomie de 7H à 14H selon l'intensité de lumière choisie. Lumière dont la température et l'intensité peut se régler en un clin d'oeil: 2 températures de lumière (blanc froid 6000°K et blanc chaud 4000°K) ainsi que 2 intensités d'éclairage (100% et 50%) sont disponibles.
Sélectionnez ci-dessous votre référence coup de coeur.

Lampe Balad H38cm Verveine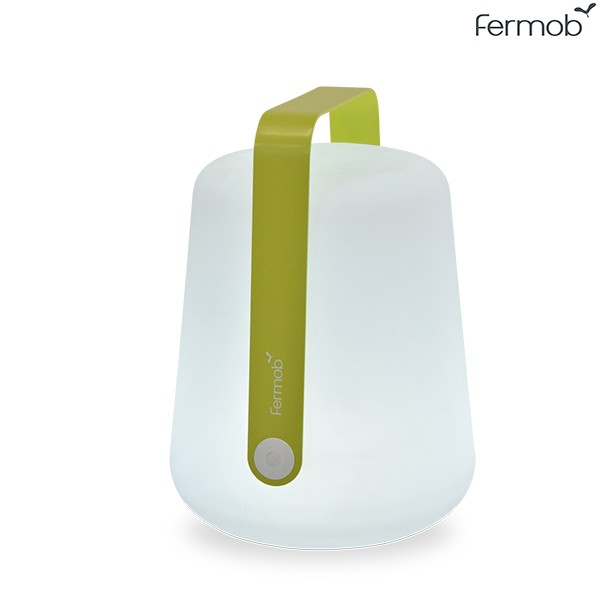 has been added to your cart.
Continue shopping

You may also be interested in the following product(s)