Paravent Sticks Base Rectangulaire Arrondie L60cm Ø4 Lumineux

Available Colors :


Specifications

Descriptive

Comments
Screen Sticks Base rectangular L60cm bright o4 at Extremis
At accompany sound
electric Cable + plug
sold separately
Possibility to connect up to 9 bases with one electric cable.
Included base, 2 leds, 96 stems, 4 feet, 4 screws
And outdoor use
Resistant to weather, UV and extreme temperatures
-Designed fiberglass rods
-Black base designed rubber
-Base rounded to 15 °
-Base with feet
-Rods colours: white, black, wood, green (other colours on request, contact us)
-Hot or cold - light 2 led 3.2W: 100-240V ~ 50/60 Hz
-IP65
-
Extra weight
to stabilize before sold as an option
- Connection cable to connect your bright screens sold in option
-There is a version
Screen Sticks basic rectangular Arrondie L60cm Ø4
Dimensions & weight:
-L65cm x l32cm x H120cm - 23kg-L65cm x l32cm x H150cm - 26kg
-L65cm x l32cm x H180cm - 30kg
-L65cm x l32cm x H210cm - 33kg
Items from the same collection:
- 
Light Sticks square Base screen
-
Screen Sticks Base rectangular light L60cm
-  Screen Sticks rectangular Base rounded L60cm light o2
Le Paravent Sticks Base Rectangulaire L60cm Ø4 Lumineux de chez Extremis a été conçu par les designers Hsu-Li Teo & Stefan Kaiser. Ce paravent lumineux exotique joue avec l'ombre et la lumière comme des roseaux au coeur de la nature. Les tiges en fibre de verre s'emboitent tout simplement dans la base en caoutchouc, et s'ajoutent ou se retirent facilement afin de jouer sur la transparence pour donner un look plus ou moins naturel. Sticks divise visuellement une pièce sans perdre la sensation d'espace. Idéal pour délimiter un coin bureau dans une maison, donner plus d'intimité dans un jardin ou bien dissimuler ce que l'on ne veut pas montrer. Et pour satisfaire toutes les envies, Sticks se décline en plusieurs hauteurs et plusieurs coloris.
Sticks est parfait pour se cacher des regards indiscrets tout en illuminant vos espaces.
Sélectionnez ci-dessous votre référence coup de coeur.

Paravent Sticks Base Rectangulaire Arrondie L60cm Ø4 Lumineux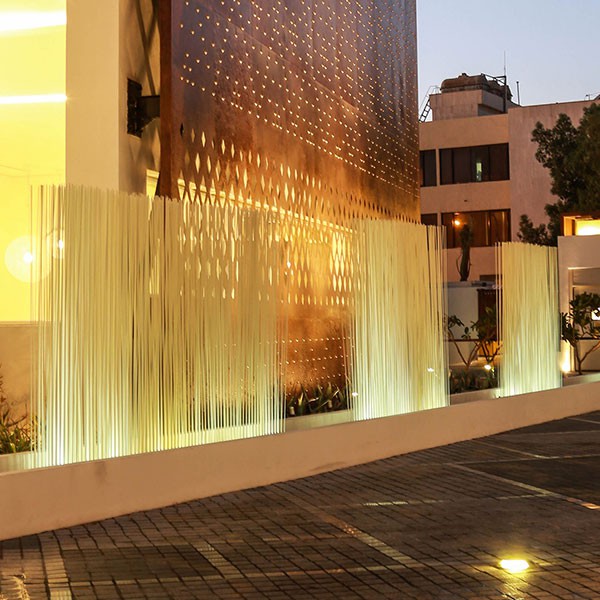 has been added to your cart.
Continue shopping

---
Customers who bought the items in your cart also bought:
You may also be interested in the following product(s)