Statuette / Pregnant Passive Ping
This product is no longer available, you can find a similar product in the category : fil d'ariane.
Available Colors :





Specifications

Descriptive

Comments
Statuette / pregnant Passive Ping from Plust
Joe Velluto (JVLT)
design
Art / passive speaker designed for indoor and outdoor use
Has a slot in the location of its beak to install a smartphone and listen to music
Realized in polyethylene
Dimensions: L22cm x 23cm x H32cm - weight: 0.9 KG
Available in 5 Basic matte colours: sky blue, white, sand, emerald green and Black Pearl
The statue / speaker Passive Ping from Plust is a decoration object and practice invented by JoeVelluto (JVLT).  The designer has fulfilled the vow of Ping to be a singer. Ping is not an ordinary Penguin. He doesn't have to walk around with a funny approach, jump and let slip on the ice, using its wings and legs. Ping is a fast and agile swimmer who always wanted to become a singer. He attended many courses of singing without success. Thanks JoeVelluto, Ping has more than to lie on the back to be the best singer of the South Pole! Ping is an object deco design to install everywhere, on his terrace, balcony or his living room coffee table and fun. But there is also a small funny passive speaker. To do this, simply sleep Ping and place its smartphone in the slot that serves as the beak. Start the music and go!
Sélectionnez ci-dessous votre référence coup de coeur.

Statuette / Pregnant Passive Ping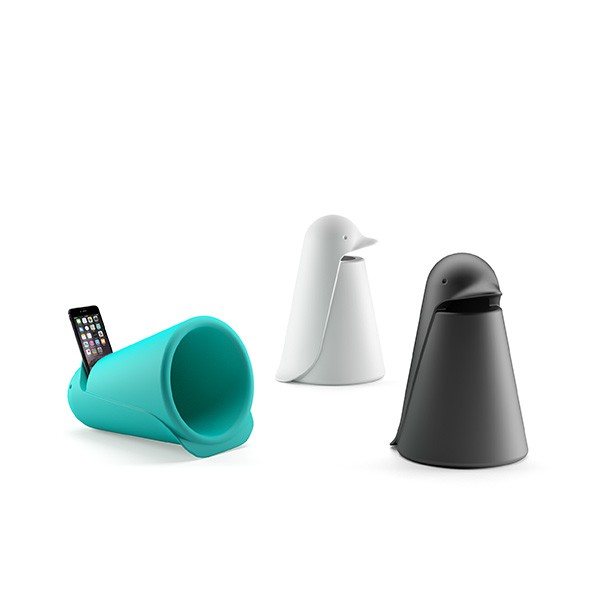 has been added to your cart.
Continue shopping

You may also be interested in the following product(s)