Table Basse Frame Acier
This product is no longer available, you can find a similar product in the category : fil d'ariane.
This promotion is available until stocks are exhausted.

Specifications

Descriptive

Comments
Table Basse Frame Acier de chez Vondom
Modèle d'exposition à prix remisé avec quelques petits défauts de finition (voir photograhies)
Table Basse conçue pour l'intérieur et l'extérieur
Structure en résine de polyéthylène rotomoulé
Résistant aux intempéries, UV et températures extrêmes - 100% recyclable
Dimensions : L120cm x larg 80cm x H35cm
Poids : 18kg
Coloris: acier mat
La Table Basse Frame Acier de chez Vondom s'identifie par une allure épurée et un côté très contemporain.
Imaginée par le designer Ramón Esteve, cette table basse fait partie d'une collection arborant un design absolu. Des lignes minimalistes, des formes intemporelles et un mobilier à la pointe de la modernité, font de cette collection, une collection d'exception. Ce mobilier 100% recyclable est d'une qualité inégalable grâce à sa matière en polyéthylène rotomoulé qui lui confère une haute résistance aux intempéries, aux UV et aux températures extrêmes. Avec son coloris gris acier, la Table Basse Frame apportera une touche d'élégance à votre espace extérieur. Sur une terrasse, dans un jardin ou au bord d'une piscine; ce mobilier vous permettra de profiter de longs moments de détente.
Sélectionnez ci-dessous votre référence coup de coeur.

Table Basse Frame Acier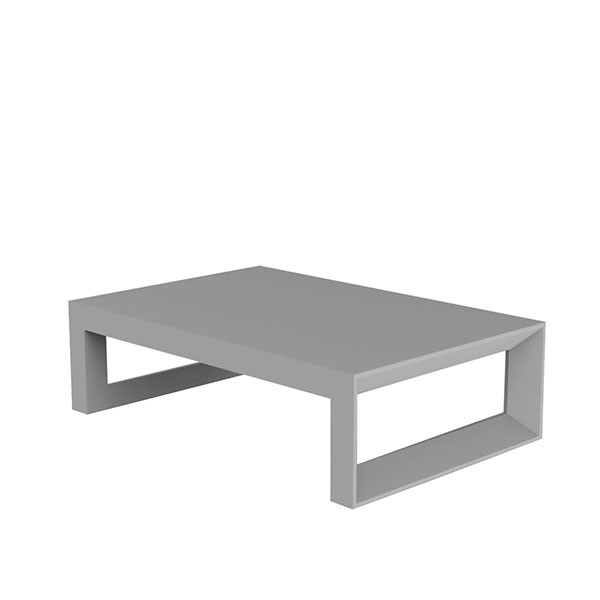 has been added to your cart.
Continue shopping

You may also be interested in the following product(s)