Bain de Soleil Dune
This product is no longer available, you can find a similar product in the category : fil d'ariane.
Available Colors :




Specifications

Descriptive

Comments
Bain de soleil Dune de chez Fermob
Bain de soleil
pliant conçu pour un usage extérieurStructure acier - Lit et dossier en Toile Technique d'Extérieur indéchirable Batyline®Peinture poudre anti-UV - Traitement très haute protection pour usage extérieur - adapté à un usage professionnelDossier réglable 4 positions - Equipé de 2 roues de
Ø20cm
Dimensions: L190cm x prof 65cm x H36cm - Poids: 19,2KG
Coloris: blanc coton, muscade, piment, cactus, romarin, carbone, gris orage
Le Bain de Soleil Dune de chez Fermob est un bain de soleil contemporain imaginé par Pascal Mourgue. Ce bain de soleil arbore des courbes fluides et une élégance indéniable. Il allie esthétisme, fonctionnalité et confort grâce à sa grande surface d'assise en toile TTE Batyline®.
Son dossier se règle sur 4 positions pour s'adapter à chaque moment de la journée et à toutes les envies. Dune est équipé de 2 roulettes pour faciliter son déplacement et sa manipulation.
Avec ses coloris tendances et chics, le Bain de Soleil Dune est idéal pour aménager un espace détente en bord de piscine, sur une terrasse ou dans un jardin.
Sélectionnez ci-dessous votre référence coup de coeur.

Bain de Soleil Dune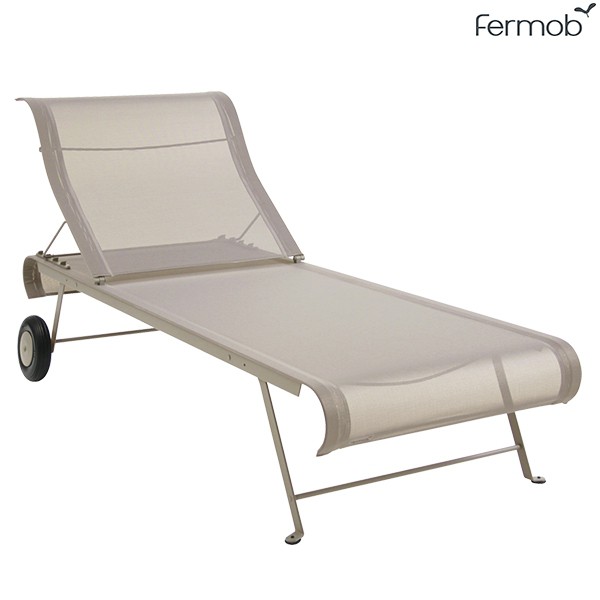 has been added to your cart.
Continue shopping

You may also be interested in the following product(s)