Banc Louisiane 150cm
This product is no longer available, you can find a similar product in the category : fil d'ariane.
Available Colors :





Specifications

Descriptive

Comments
Banc Louisiane 150cm de chez Fermob
Banc
conçu pour un usage extérieurStructure acier - 20 lattes tube acier électrozingué carré - Peinture poudre anti-UVTraitement très haute protection pour usage extérieurLivré démonté - mobilier à monter - banc 3/5 places Dimensions: Longueur totale 150cm x prof 72cm x H80cm - H assise 43cm - Longueur piétement 119cm (entre les pieds 113cm) - Poids: 33,3KGColoris: blanc coton, muscade, rouille, ocre rouge, piment, coquelicot, tilleul, verveine, miel, capucine, rose praline, cactus, romarin, cèdre, réglisse, gris métal, bleu lagune, gris orage, carbone, bleu acapulco, bleu abysse, gris argile, citron givré, menthe glaciale
Le Banc Louisiane 150cm de chez Fermob est un banc design conçu spécialement pour un usage extérieur. Avec sa structure et ses lattes en acier recouverts de peinture poudre anti-UV, ce banc design est hautement traité pour résister aux conditions extérieures. Sa forme intemporelle et sa large palette de coloris tendances permettent au Banc Louisiane de s'adapter à tous les styles d'espaces. Il accueille jusqu'à 3-5 personnes pour profiter de délicieux moments de détente en plein air.
Louisiane existe aussi en L200cm (4-6 personnes): Banc Louisiane 200cm
Sélectionnez ci-dessous votre référence coup de coeur.

Banc Louisiane 150cm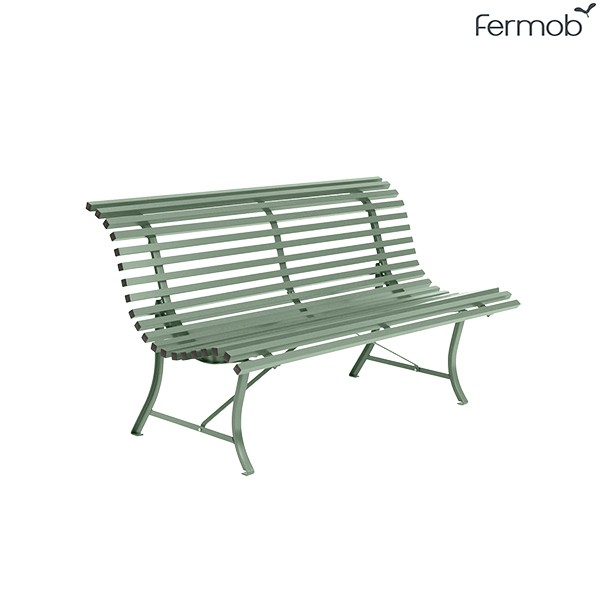 has been added to your cart.
Continue shopping

You may also be interested in the following product(s)