Cabane pour Enfant Picnic
This product is no longer available, you can find a similar product in the category : fil d'ariane.
Available Colors :

Specifications

Descriptive

Comments
Cabane pour enfant Picnic de chez Fermob
Cabane
pour enfant conçue pour l'extérieurStructure tube acier galvanisé - Plateau et banc tôle acier électro zingué Toit en tissu acrylique 100% outdoor traité anti-tâches et anti-moisissures (déperlant)Toile amovible lavable en machine à 40°C / Protège des UVProduit conforme aux normes jouets (NF EN 71) normes mobilier (NF D60-300)Traitement très haute protection pour usage extérieur - Poudre anti UVDimensions: L100cm x prof 110cm x H132cm - Poids: 26,5KGColoris: bleu lagune
La Cabane pour Enfant Picnic de chez Fermob a été pensée par 2 papas designers lassés par le banal mobilier d'extérieur pour enfant. Picnic associe la fonction de table de pique-nique et de cabane. Cette cabane est un mobilier de jardin dont le style semblerait dessiné par un enfant de manière naïve.
Cette cabane pour enfant peut accueillir jusqu'à 4-6 enfants de 2 à 7 ans pour goûter, dessiner ou jouer. Ils seront ainsi protégés du soleil ou de la pluie tout en étant plongés dans leur univers.
Picnic se compose d'une table et de 2 bancs en métal hautement traité pour l'extérieur et recouvert de peinture poudre anti-UV. La table et les 2 bancs sont abrités sous une épaisse toile de parasol en tissu acrylique déperlant et anti UV.
Facile d'entretien, ce tissu 100% outdoor est amovible et se lave en machine.
Picnic saura aménager avec modernité un espace de jeu extérieur.
Picnic est conforme aux normes jouets et mobilier.
Sélectionnez ci-dessous votre référence coup de coeur.

Cabane pour Enfant Picnic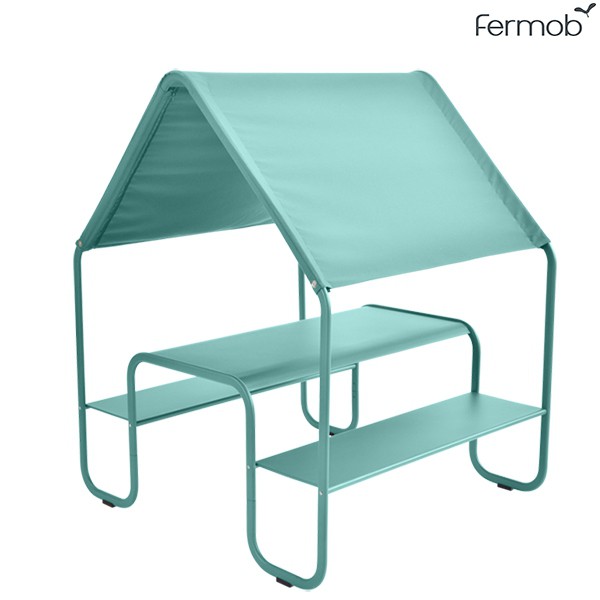 has been added to your cart.
Continue shopping

You may also be interested in the following product(s)