Chaise Métal Bistro
This product is no longer available, you can find a similar product in the category : fil d'ariane.
Available Colors :





Specifications

Descriptive

Comments
Chaise Métal Bistro de chez Fermob
Chaise de repas
en métal conçue pour un usage extérieur - Adaptée à un usage professionnelStructure acier - peinture poudre anti-UV Lattes galbées en acier galvaniséClips plastiques pour pliage et déplaige ralentis et sécurisésTraverses monobloc acier électrozingué - Patin monobloc pour une meilleure tenue et une pose facilitéTraitement haute protection pour usage extérieurDimensions: L42cm x prof 39cm x H82cm - Hauteur assise 45cm - Largeur d'assise 31cm - Poids: 4,8KGColoris: blanc coton, muscade, rouille, ocre rouge, piment, coquelicot, tilleul, verveine, miel, carotte, capucine, rose praline, cactus, romarin, cèdre, réglisse, aubergine, prune, gris métal, bleu lagune, gris orage, carbone et bleu acapulco
La Chaise Métal Bistro de chez Fermob est la création phare de la marque Française. Créée à la fin du 19ème siècle, la chaise pliante Bistro, simple et solide, remporte un véritable succès auprès des limonadiers de l'époque. De nos jours, la Chaise Bistro n'a rien perdu de son charme: revisitée par la marque Fermob, cette chaise est d'autant plus ingénieuse et tendance. Pratique par son côté pliant, elle n'en est pas moins ultra déco avec sa large palettes de coloris. Réalisée en acier recouvert de peinture poudre anti-UV, en acier galvanisé pour ses lattes galbées et acier électrozingué pour ses traverses, la Chaise Métal Bistro est résistante pour un usage extérieur sans crainte. Cette chaise de jardin s'adapte à tout espace extérieur, restreint comme plus vaste, et se plie tout simplement une fois qu'elle n'est plus utilisée.
Un incontournable de la gamme Fermob qui s'associe parfaitement avec les différentes tables de la gamme (voir en produits apparentés).
Existe également en version lattes en hêtre traité/structure acier avec la Chaise Naturel Bistro.
Et pour plus de confort, un coussin d'assise est disponible en accessoire: Galette Chaise Bistro
Sélectionnez ci-dessous votre référence coup de coeur.

Chaise Métal Bistro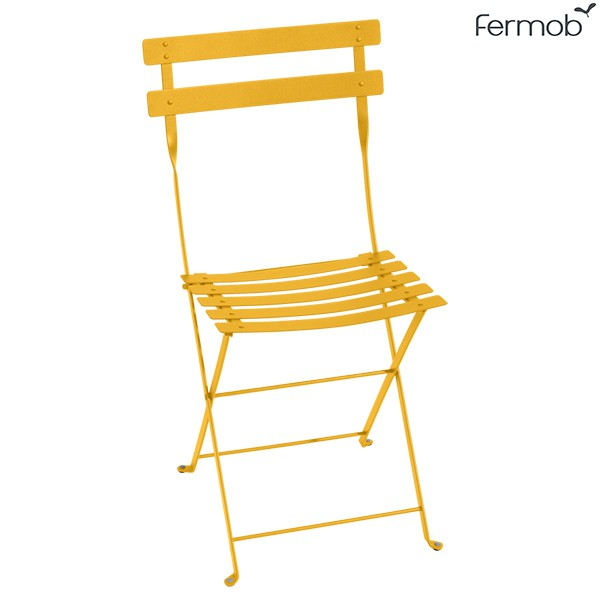 has been added to your cart.
Continue shopping

You may also be interested in the following product(s)