FIR Chrismy Bright RGB On Battery


Specifications

Descriptive

Comments

Vidéo
Chrismy Bright RGB Tree on Vondom Battery
Battery-operated luminous tree
designed for indoor and outdoor use
Rotomoulded polyethylene resin structure
Weatherproof, UV and extreme temperature resistant -100% recyclable
- Battery-powered RGBW LED bulb lighting
- Color change (white, red, green, blue, light blue, pink, yellow) remotely by remote control
- RF controller 433 Mhz (distance 10-15 meters) - IP65 standard applicable for wetlands
- CE / RoHS standards - EEI: Class A - Ta: 40°C - 450-1100 LM Max (depending on model)
- Li-ion battery from 5.2 to 19 Ah (depending on the model) 12V / 5-6h autonomy / 4H charging - 500 cycles / EN: 100-240V AC / 50-60 Hz
- Charger and remote control included
- Optional: Kit 2 Stainless Steel Feet to hold the tree (excluding size H25cm and 50cm)
Dimensions and weight:
(not available in Nano Chrismy for outdoors, only indoor on request)
- L38cm x width 26cm x H50cm - Weight: 3KG
- L75cm x width 32cm x H100cm - Weight: 11.5KG
- L110cm x width 40cm x H150cm - Weight: 22KG
- L150cm x width 54cm x H200cm - Weight: 43KG
Also available in Chrismy Bright White Tree on Cable and Chrismy Luminous RGB on Cable Tree.
The Chrismy Luminous RGB Christmas Tree on Battery from Vondom is an original and design luminous. Designed by designer Teresa Sapey, this Christmas tree-shaped luminaire is ideal for decorating and illuminating an outdoor or indoor space with modernity at the end of the year. Available in 4 sizes, this tree with organic shapes diffuses a soft and enveloping light. This 100% recyclable tree is of incomparable quality thanks to its rotomoulded polyethylene material that gives it high resistance to weather, UV and extreme temperatures. The Chrismy RGB Luminous Christmas Tree will create a magical and magical nocturnal atmosphere within your spaces.
Very practical with its RGBW LED technology with battery, Chrismy allows to illuminate the space without connection to the mains. With an autonomy of 5-6 hours, you can enjoy the colorful lights diffused by Chrismy throughout your winter evenings.
A kit of 2 legs in stainless steel is available to stabilize the largest sizes of Chrismy H100cm / H150cm and H200cm.
The Nano Chrismy is not intended for outdoor use, it is however available for indoor use on request, contact us.
The Chrismy Luminous RGB Tree on Battery is also available in version Chrismy Luminous White on Cable and Chrismy Luminous RGB Tree on Cable .
Sélectionnez ci-dessous votre référence coup de coeur.

FIR Chrismy Bright RGB On Battery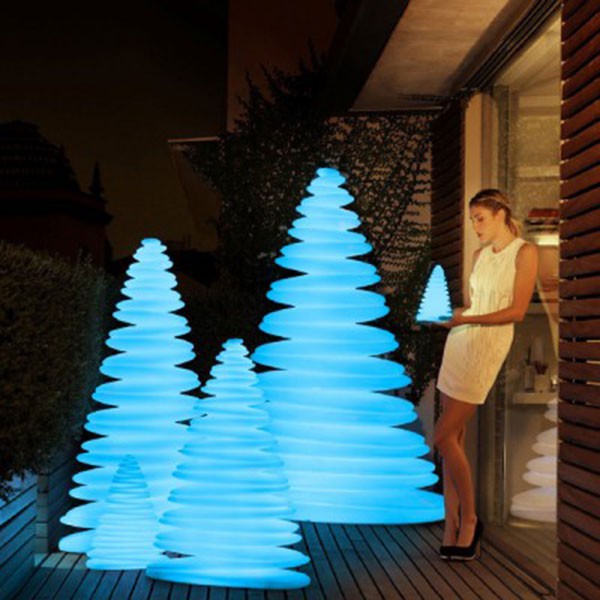 has been added to your cart.
Continue shopping

---
Customers who bought the items in your cart also bought:
You may also be interested in the following product(s)