Lampe à Batterie Rechargeable Mobi LED
This product is no longer available, you can find a similar product in the category : fil d'ariane.

Specifications

Descriptive

Comments
Lampe à Batterie Rechargeable Mobi LED de chez Myyour
Petite lampe sans fil
à batterie rechargeable conçue pour un usage extérieur et intérieurRéalisée en matériau Polyeasy® (polyéthylène hautement résistant breveté par Myyour) avec excellentes propriétés mécaniques, résistant aux UVDimensions: L28cm x larg 18cm x H12cm - Poids: 0,64KGColoris Polyeasy® transparent - Lumière RGBW (changement de couleurs)Composée d'une ampoule LED RGBW 1.8W - Index de protection IP66Se recharge par induction sur sa station de charge - Durée de charge 4-5H - Durée d'éclairage 8-10HStation de charge et télécommande incluses
La Lampe à Batterie Rechargeable Mobi LED est une création signée Brogliato Traverso pour la marque italienne Myyour. Mobi est une petite lampe sans fil en forme de baleine. Une fois allumée, elle nous embarque au voyage des contes pour enfant, et notamment, de Pinocchio. Elle donne vie aux rêves dans une chambre d'enfant comme dans un salon ou sur un balcon. Mobi est en complète bivalence: éteinte elle s'avère être un objet déco ultra design, allumée elle devient une fable à part entière. Cette petite lampe baleine abrite à l'intérieur, en plus de Pinocchio, une ampoule LED RGBW qui se recharge à l'induction. Une station de charge ainsi qu'une télécommande sont incluses. Il est ainsi possible de contrôler les couleurs de lumière que l'on souhaite donner à Mobi. Une petite lampe à transporter partout, qui séduira petits et grands.
Sélectionnez ci-dessous votre référence coup de coeur.

Lampe à Batterie Rechargeable Mobi LED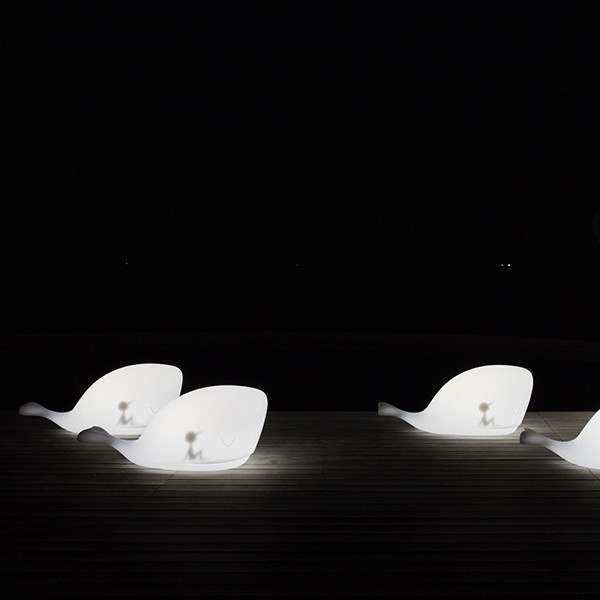 has been added to your cart.
Continue shopping

You may also be interested in the following product(s)