Umbrella Shade In Mat Deporte

Available Colors :

Specifications

Descriptive

Comments

Vidéo
Mast Deporte Shade umbrella at Emu
Parasol in anodized aluminum & polyester
Opening system & easy closure (folds down completely on the mast)
Resistance to breaking, abrasion, light, and water level 4 (according to standard BSEN)
Perfectly elastic canvas (does not permanently deform) and water repellent
Moquet & crank opening system
Reclining canvas horizontally
Mast swivel to rotate the parasol around his foot
Basic storage of off-white colours cover included
Gray protective cover available as an option (better fabric for outdoor protection)

Available in 2 sizes, 2 colors of canvas and 3 colors of Structure:
-Umbrella pole deported Shade 300: L 300 cm x w 324cm x H 290 cm - available in white and taupe; Available in Aluminium, white broken or old iron structure
-Umbrella pole deported Shade 400: L 400 cm x w 324cm x H 290 cm - available in white and taupe
White lacquered steel pedestals available in additional articles (delivered without slabs, tiles acquire in any trade of garden accessories):
-Base for mast Deporte 300 Shade umbrella
-Base for pole deported 400 Shade umbrella
The Mat Deporte Shade umbrella designed by Christophe Pillet to Emu is symbol of quality, resistance, durability and beauty. Member of the family of umbrellas designed from materials technology, the Shade umbrella sports lines attractive, elegant and well finished.
It is the ideal of the protection of outside and will be perfect installed on a terrace or in a garden. He will decorate any outdoor space, whether residential or collective to perfection. Result of an ambitious project, it adopts a unique search technology capable of developing a system of balance and levers that simplify considerably the phases of opening and closing of the parasol.
Resistant to breakage, light, abrasion and water and with an optimal elasticity, his canvas polyester presents mechanical characteristics of a high level.
The Parasol mast Deporte Shade aluminium, white case and old iron is delivered without base, the base white parasol mast Deporte Shade 300 lacquered steel and the steel base painted white for Parasol mast Deporte Shade 400 are available in additional items (delivered without plates, to acquire in any trade of garden accessories)
Sélectionnez ci-dessous votre référence coup de coeur.

Umbrella Shade In Mat Deporte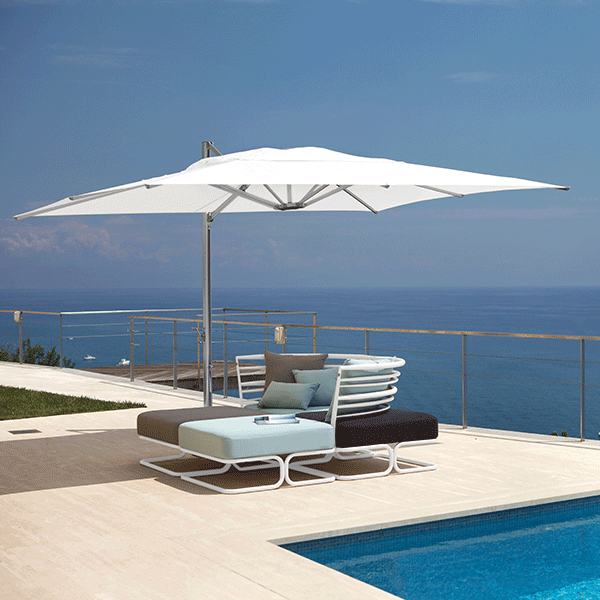 has been added to your cart.
Continue shopping

---
Customers who bought the items in your cart also bought:
You may also be interested in the following product(s)